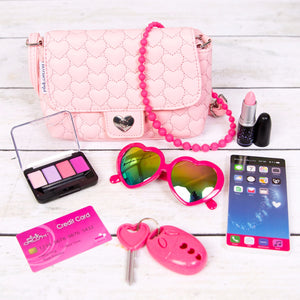 Are you headed out for the day? Or do you just feel like prettying-up before playtime at home? These deluxe play pretend purses have everything to entertain her for hours, plus make her feel as cool as mommy, aunt, grandma, or big sister.
Whatever awaits you today, she can now go out and about with you in style! The best part? There is no more sneaking to "borrow" mommy's stuff! 
Girl date moments? We can make those mess-free and make it a win-win for you and for her!  With our 100% kid-safe pretend makeup, your little one's makeup look and feel just like mommy's, but with zero mess or transfer onto face, clothing, or walls, your makeover sessions will be 100% pure fun!
Don't forget all the other surprises in her purse! Toy car keys, a cell phone (no noise, lights, or electronics added), a brush, a necklace, sunglasses, etc. Check out purse set picture to see exactly what's included!